An event to promote international cooperation that strengthens autonomous communities.
Leia em português. Auf deutsch lesen.
When?
18. November 2023,
15-17Uhr (Berlin) / 11-13h (Brasília) / 10-12h (Manaus/New York) / 9-11h (Quito/Rio Branco/SPO)
Register here.
The event will present projects from Latin America that have a positive long-term impact and strengthen the autonomy of communities with live translation to English. Leaders of such activities will share their experiences and participate in the discussion to strengthen other projects around the world.
For example, speakers will share (1) the local challenges they faced, (2) the challenges they faced in terms of international communication between partners, (3) the reasons that motivated them to start the projects, (4) the reasons that motivated them to continue the activities after the project was completed, (5) how the local engagement of other community members was, and any other point they think is interesting to understand why the project had a long-term positive impact.
This event will be of particular interest to individuals in Germany who are interested in developing effective international collaboration with long-term positive impact on communities in the Global South.
Invited speakers:
Oswando Nenquimo, or Opi, is an activist and Waorani indigenous leader, nature and human rights defender. For 10 years he has being active on the defense of the Waorani territory – Pastaza, Ecuador. He supported many self-government initiatives as is the Waorani Organization of Pastaza. He has remained at the forefront of every struggle to confront the Ecuadorian State on indigenous rights on violation of prior consultation and consent. Together with his Waorani people, they have won a great legal victory on rights to life and so we threw out the oil concessions in their territory.
Olinda Tupinambá is indigenous, journalist and filmmaker. She's an indigenous defender, seeking the regeneration of nature and the promotion of sustainable practices in her territory. Her audiovisual highlights the fight of her people. She's the president of the NGO Okara Kaapora, a non-profit indigenous organisation, of a shamanic, philosophical, mystical and sacred nature, which values contact with the spiritual forces of nature, spiritual development, appreciation of indigenous culture and harmonious relationship with nature.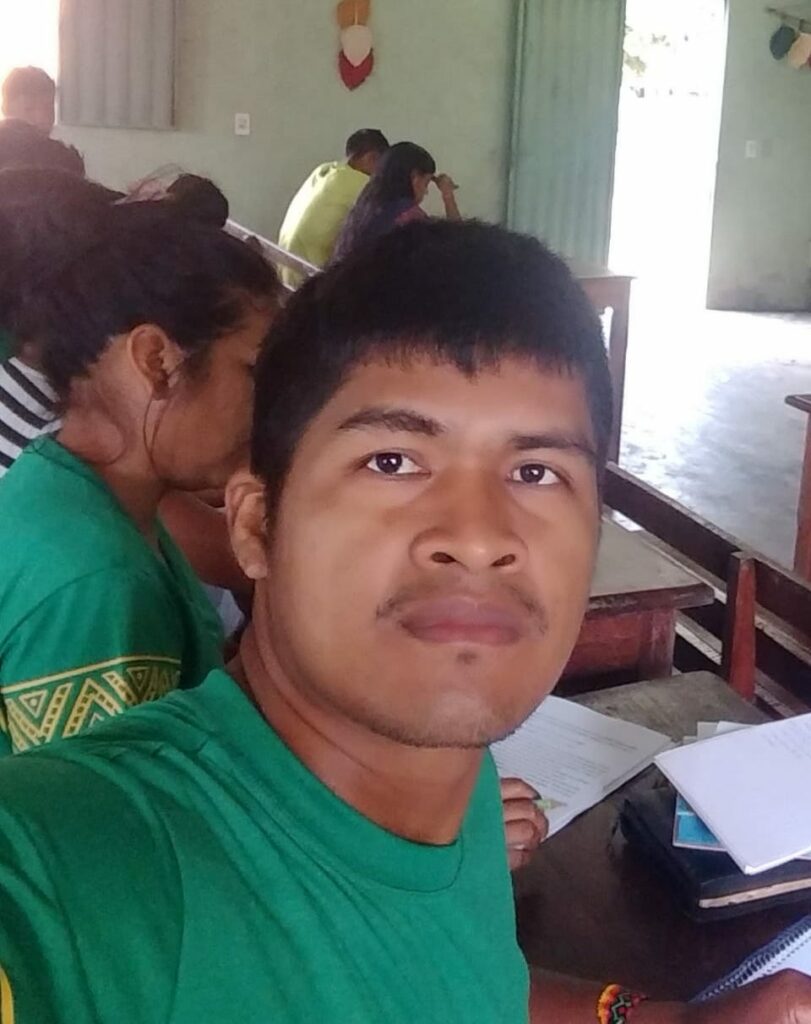 Francisco Neto Guajajara is the leader of the brigade fighting forest fires in the Araribóia indigenous land in the Lago Branco region. Due to climate change, 2023 was a particularly dry year and the indigenous territory was under great threat. In this situation, the brigade's work in preventing and fighting fires is crucial. Francisco is also a great observer of nature and is always actively asking questions of his elders. In this way he has access to indigenous wisdom, which he applies in his day-to-day work, while reforesting, looking after his bees and protecting his territory.
They are invited to present their context to an audience in the Global North, particularly in Germany, in an online event that coincides with an in-person event.
In-person event:
offline ~ Lichtenrader Str. 49, 12049 Berlin
Online event:
https://us06web.zoom.us/j/83865519908?pwd=Z2hUK2X3bMJkPgjyW9UPkr1T1tOXXb.1