Pollinating Regeneration
Empower communities develop regenerative Projects
Enabling indigenous & local communities transform their ideas into scalable projects – putting their interests, needs and aspirations at the project's heart – to lead regenerative solutions strengthening communities involved, and valuing local culture and biodiversity.
We support projects led by communities, ensuring their buy-in, thereby delivering long-term social and environmental gains and leading a bottom-up movement for climate justice. The entire program is built in a relationship of trust and collective learning within the network of different communities from diverse biomes.
How we do that?
We share frameworks for ideations happening internally in the communities
We support the structuring of projects through capacity building and 1-to-1 mentoring
We facilitate partnership pathways between experts from other communities and external partners
With partners support, we fund community-led projects based on our values.
We prepare spaces for exchanges between communities:
– In-person workshops
– Frameworks for participatory workshops
– Interviews of community leaders
– Online messages exchange groups
– Online meetings engaging all communities
Values
Impact Network: Creating a network with connections strengthening the communities.
Strong communities: We believe that strong communities are great change-makers!
Wellbeing: Communities with autonomy that define what wellbeing is for them.
Local biodiversity: Local species are the basis to strengthen and/or regenerate the biodiversity.
Living culture: We support culture connected to good living and local biodiversity.
Support this program!
Join the group of partners supporting this program and multiply the communities accessing this impact network!
Drop us a line at: hello@meli-bees.org
Projects 2023:
We're supporting community-led projects in the Amazon, Cerrado & Atlantic Forest biomes:
Guajajara youth leaders from the Arariboia territory promote regeneration in an integrated manner, with seed collection, seedling production, reforestation, meliponiculture and community networks.
Full project
Tupinambá/Pataxó Hã-hã-hãe leaders build a community kitchen to strengthen regenerative agriculture and environmental education in the Pataxó Hã-hã-hãe community.
After numerous failed experiments with reforestation, the Frei Henri community seeks technical support in syntropic agriculture to guide regeneration in the centre of the arc of deforestation.
Full project
Stingless bee keeping in nature
The riverside community of Campo de Perdizes seeks meliponiculture to strengthen local biodiversity with the ecosystem services of native bees and the creation of new sources of income.
Full project
Traditional Farming & Community Network
Krahô leaders strengthen sustainable food production in their community by integrating traditional and syntropic farming practices with support of connectivity infra-structure.
Puk xop yã īy (longing the bees)
Maxakali elders miss the greater presence of bees in their territory. They motivate the rescue of biodiversity and culture related to these pollinators in the territories of their people.
Full project
To strengthen food and nutritional security in the community, the Garden brings pedagogical work to rescue food culture based in the principle of collectivity and cultural strengthening of the Apurinã people.
Full project
Workshop on Stingless Bees
The São Tomé do Bracinho de Icatu quilombo community sees powerful partners in the native bees. Through meliponiculture, the group will protect the ecosystem services.
Full project
COOPSAFI
Community in the south-east of Pará developing agroforestry establish fruit pulp production. With this new livelihood tool based on biodiverse fields, the community will waste less of its production.
Mopó Itiveko: Honey house
To strengthen and amplify the activities already being developed by Terena teachers, enhancing both environmental and cultural regeneration. The project will also produce the traditional Kopenoty Syrup.
[More coming soon]
Project Leadership:
Jonas Guajarara
Ma'eputyr Project
Francisco Neto Guajajara
Ma'eputyr Project
Olinda Tupinambá
Food for Good Living Project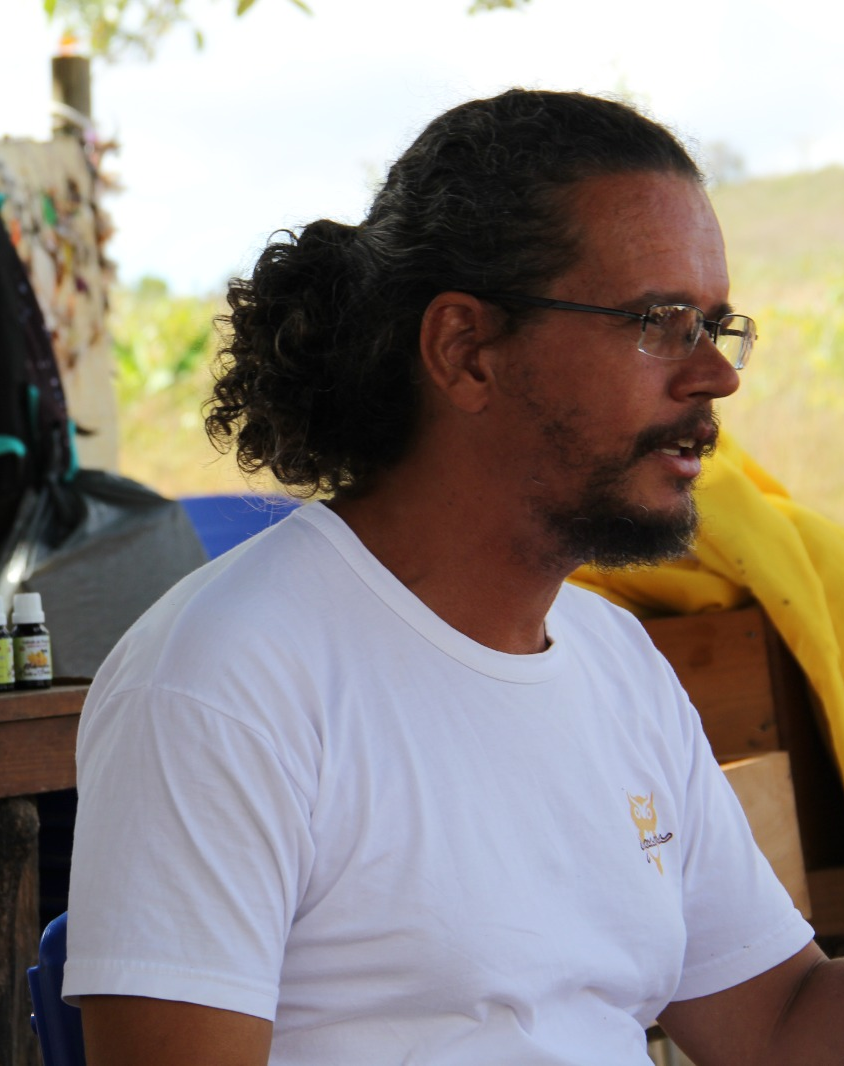 Samuel Wandeley
Food for Good Living Project
Reni Lourenço
Flourishing Drought
Francisca Souza
Flourishing Drought
Ana Maria
Francisco Hyjnõ Krahô
Traditional Farming & Community Network
Luzia Cruwakwyj Krahô
Traditional Farming & Community Network
Thiago Pereira
Puk xop yã īy (longing the bees)
Manoel Damazio Maxakali
Puk xop yã īy (longing the bees)
Arnalda Maxakali
Puk xop yã īy (longing the bees)
Kukuy Apurinã
Food Safety: School Garden
Tainá Viana
"Tia" Francisca
Kamara Apurinã
Food Safety: School Garden
Vavá Áruak Terena
Yvoty Medina
Mopó Itiveko: Honey house
[More coming soon]