As part of Globalgiving's campaign Meli wants to protect the Amazon Rainforest together with Quilombola women and stingless bees – learn more about why we need YOU for this!
Author: Kyra Hertel
Auf Deutsch lesen.
Help Amazonian Community protect their native bees
Diverse stingless bees species are a unique species of the Amazon Rainforest in Brazil. Not only do they play a great role in sustaining local ecosystems but they are also important to the indigenous communities that live in the area. However, the deforestation of their environment continues and threatens the existence of the (stingless!) bees increasingly. Together with the Quilombola women in Bracinho do Icatu Meli builds resilient communities to protect the bees and their environment.
We need you…
Now the time in which you can support our work has come! To share what we do with as many people as possible Meli wants to become part of the GlobalGiving Community. GlobalGiving is a certified non-profit organization that supports projects on a global level and connects them to an international audience. This is how we can sharpen the awareness for what is going on in the Amazon region and strengthen the support for following projects with the Quilombola women.
… for our Crowdfunding Campaign
To become part of the GlobalGiving platform we must do everything we can from September 13th 2021! Until the 30th of September we need to raise 5000$ from at least 40 different people. That is why we need your support. Only with you we can achieve that goal!
Why do we need you?
We all heard the dreadful news. In the last years the deforestation of the Amazon Rainforest increased to an unimaginable extent. Only last year (2020) 1.5 million hectares (a bit more than four times the size of Mallorca) have been lost just in Brazil. That are 13 percent more than in 2019. That does not only mean that diverse ecosystems disappear, many kinds of plants and animals go extinct and that the climate crisis intensifies. Also for the local communities like smallholders, indigenous peoples and Quilombola communities it is a fatal situation. Very specifically it means for them: Live in a situation of constant suppression and discrimination. Land theft, deforestation and displacement threaten their livelihoods.
You support: Resilient communities through stingless bees
Despite their tiny size, the stingless bees of the Amazon are crucial to its existence. Just as much as they contribute to maintain traditional communities. Beekeeping secures sovereign livelihoods and produces medicinal products like Propolis for the beekeepers themselves. The Quilombola women of Bracinho do Icatu work together with Meli to interrupt the Arc of Deforestation. Their stories may be no longer unheard! Due to a storytelling workshop they gained knowledge to share their stories through photos and videos with the entire world.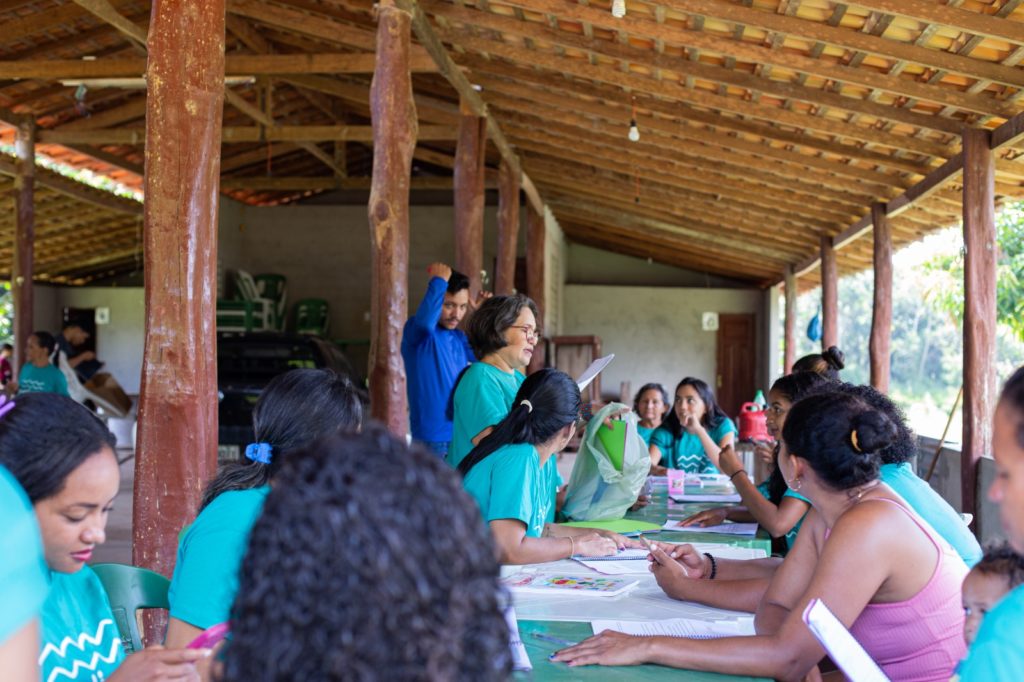 Where does your donation go?
With the money we raise with your and your friends' help during the Global Giving crowdfunding campaign, we can strengthen the cooperation with the Quilombola women. We can establish beekeeping at their community for the first time and give some more stingless bees a home. Of course that needs a lot of materials like beehouses or information brochures. With your donation we can get everything the bees need and bring them to their new home with the Quilombola women. Before, Meli also facilitates a beekeeping workshop and the bees can move to their new homes.
Become part of the Meli community!
So, it is in your hands! Support us from September 13th until September 30th with your donation or share the news to all your friends, family and colleagues! Be part of this movement and care for the protection of the bees and the Amazon Rainforest together with Meli and the Quilombola women of Bracinho do Icatu!